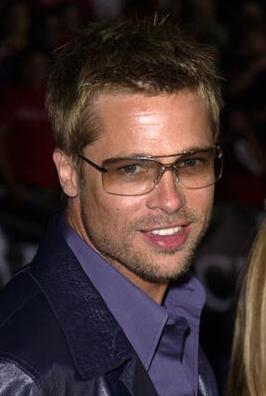 BIOGRAPHY credit to: Rebecca Flint, All Movie Guide
source : bellazon.com
With looks that have inspired countless People magazine covers, Internet shrines, and estrogen surges, Brad Pitt is an actor whose very name inspires drooling platitudes, more about male beauty than about acting. Following his breakthrough as the wickedly charming drifter who seduces Geena Davis and then robs her blind in Thelma & Louise (1991), Pitt became one of Hollywood's hottest properties and spent most of the 1990s being lauded as everything from Robert Redford's heir apparent to the Sexiest Man Alive.
Pitt's ascension to his celluloid throne was a long and sometimes frustrating one. The son of a trucking company manager, Pitt was born December 18, 1963, in Shawnee, OK. Raised in Missouri, Pitt, the oldest of three children, was brought up in a strict Baptist household. Following his high-school graduation, he enrolled at the University of Missouri, where he studied journalism and advertising. However, after discovering his love of acting, he dropped out of college two credit hours before he could graduate and moved to Hollywood. Fearful of his parents' reaction, he told them he was going to Pasadena to study at the Art Center College of Design. Once in California, Pitt took acting classes and supported himself with a variety of odd jobs that included chauffeuring strippers to private parties, waiting tables, and wearing a giant chicken suit for a local restaurant chain. His first break came when he landed a small recurring role on Dallas, and a part in a teenage-slasher movie, Cutting Class (1989), marked his inauspicious entrance into the world of feature films. The previous year, Pitt's acting experience had been limited to the TV movie A Stoning in Fulgham County (1988).
1991 marked the end of Pitt's sojourn in the land of obscurity, as it was the year he made his appearance in Thelma & Louise. After becoming famous practically overnight, Pitt unfortunately chose to channel his newfound celebrity into Ralph Bakshi's disastrous Cool World (1992). Following this misstep, Pitt took a starring role in director Tom Di Cillo's independent film Johnny Suede. The film failed to find favor with critics or at the box office and Pitt's documented clashes with the director allegedly inspired Di Cillo to pattern the character of the vain and egotistical Chad Palomino, in his 1995 Living in Oblivion, after the actor. Pitt's next venture, Robert Redford's 1992 fly-fishing drama A River Runs Through It, gave the actor a much-needed chance to prove that he had talent in addition to his looks. Following his performance in Redford's film, Pitt appeared in Kalifornia and True Romance (both 1993), two road movies featuring fallen women, violent sociopaths, and tumbleweeds.
Pitt's next major role did not come until 1994, when he was cast as the lead of the gorgeously photographed Legends of the Fall. As he did in A River Runs Through It, Pitt portrayed a free-spirited, strong-willed brother, but this time had greater opportunity to further develop his enigmatic character. Following the film's release, People magazine dubbed him the Sexiest Man Alive. That same year, fans watched in anticipation as Pitt exchanged his outdoorsy persona for the brooding, gothic posturing of Anne Rice's tortured vampire Louis in the film adaptation of Interview With the Vampire. Starring opposite Tom Cruise, Pitt enjoyed the further helping of fame that was served up by the film's success.
Pitt next starred in the forgettable romantic comedy The Favor (1994) before going on to play a rookie detective investigating a series of gruesome crimes opposite Morgan Freeman in Seven (1995). In 1997, Pitt received a Golden Globe award and an Oscar nomination for his portrayal of a visionary mental patient in Terry Gilliam's 12 Monkeys; the same year, Pitt attempted an Austrian accent and put on a backpack to play mountaineer Heinrich Harrar in Seven Years in Tibet. The film met with mixed reviews and generated a fair amount of controversy, thanks in part to the revelation that the real-life Harrar had in fact been a Nazi. Furthermore, due to its pro-Tibetan stance, the film also resulted in Pitt's being banned from China for life. Following Tibet, Pitt traveled in a less inflammatory direction with Alan J. Pakula's The Devil's Own, in which he starred with fellow screen icon Harrison Ford. Despite this seemingly faultless pairing, the film was a relative critical and box-office failure. In 1998, Pitt tried his hand at romantic drama, portraying Death in Meet Joe Black, the most expensive non-special effects film ever made. The film, which weighed in at three hours in length, met with excessively mixed reviews, although more than one critic remarked that Pitt certainly made a very appealing representative of the afterlife.
Pitt's penchant for quirk was prevalent with his cameo in the surreal comic fantasy Being John Malkovich (1999) and carried over into his role as Tyler Durden, the mysterious and anti-materialistic soap salesman in David Fincher's controversial Fight Club the same year. The odd characterizations didn't let up with his appearance as the audibly indecipherable pugilist in Guy Ritchie's eagerly anticipated follow-up to Lock, Stock and Two Smoking Barrels, Snatch (2000).
In July of 2000, the man voted "Most Sexy Actor Alive" by virtually every entertainment publication currently in circulation crushed the hearts of millions of adoring female fans when he wed popular film and television actress Jennifer Aniston in a relatively modest (at least by Hollywood standards) and intimate service.
Pitt's next turn on the big screen found him re-teamed with Robert Redford, this time sharing the screen with the A River Runs Through It director in the espionage thriller Spy Game (2001). A fairly retro-straight-laced role for an actor who had become identified with his increasingly eccentric roles, he was soon cast in Steven Soderbergh's remake of the Rat Pack classic Ocean's 11 (2001), the tale of a group of criminals who plot to rob a string of casinos.
Following a decidedly busy 2001 that also included a lead role opposite Julia Roberts in the romantic crime-comedy The Mexican, Pitt was virtually absent from the big-screen over the next three years. After walking away from the ambitious and proplematic Darren Aronofsky production The Fountain, he popped up for a very brief cameo in pal George Clooney's 2002 directorial debut Confessions of a Dangerous Mind and lent his voice to the animated adventure Sinbad: Legend of the Seven Seas, but spent the majority of his time working on the historical epic Troy. Directed by Wolfgang Peterson, the film employed a huge cast, crew and budget and premiered in May of 2004.
ACTOR - FILMOGRAPHY credit to: imdb
• Mr. and Mrs. Smith (2005) (post-production) .... John Smith
• Ocean's Twelve (2004) .... Rusty Ryan
• Troy (2004) .... Achilles
• Sinbad: Legend of the Seven Seas (2003) (voice) .... Sinbad
• Confessions of a Dangerous Mind (2002) .... Brad, Bachelor #1
• Full Frontal (2002) .... Brad/Himself
• Ocean's Eleven (2001) .... Rusty Ryan
• Spy Game (2001) .... Tom Bishop
• The Mexican (2001) .... Jerry Welbach
• Snatch. (2000) .... Mickey O'Neil
• Fight Club (1999) .... Tyler Durden
• Meet Joe Black (1998) .... Joe Black
• The Dark Side of the Sun (1997) .... Rick
• Seven Years in Tibet (1997) .... Heinrich Harrer
• The Devil's Own (1997) .... Rory Devaney/Francis Austin McGuire
• Sleepers (1996) .... Michael Sullivan
• Twelve Monkeys (1995) .... Jeffrey Goines
• Se7en (1995) .... Detective David Mills
• Legends of the Fall (1994) .... Tristan Ludlow
• Interview with the Vampire: The Vampire Chronicles (1994) .... Louis de Pointe du Lac
• The Favor (1994) .... Elliott Fowler
• True Romance (1993) .... Floyd
• Kalifornia (1993) .... Early Grayce
• Contact (1992) .... Cox
• A River Runs Through It (1992) .... Paul Maclean
• Cool World (1992) .... Detective Frank Harris
• Across the Tracks (1991) .... Joe Maloney
• Two-Fisted Tales (1991) (TV) .... Billy (segment "King of the Road")
• Johnny Suede (1991) .... Johnny Suede
• Thelma & Louise (1991) .... J.D.
• "Glory Days" (1990) TV Series .... Walker Lovejoy (1990)
• Too Young to Die? (1990) (TV) .... Billy Canton
• The Image (1990) (TV) .... Steve Black
• Cutting Class (1989) .... Dwight Ingalls
• Happy Together (1989/I) .... Brian
• A Stoning in Fulham County (1988) (TV) .... Theodore 'Teddy' Johnson
• Less Than Zero (1987) (uncredited) .... Partygoer
• No Man's Land (1987) (uncredited) .... Waiter
• "Another World" (1964) TV Series .... Chris (1987)
PRODUCER - FILMOGRAPHY credit to: imdb
• Untitled Jennifer Aniston Project (2005) (in production) (producer)
• A Million Little Pieces (2006) (announced) (producer)
• The Departed (2006) (pre-production) (producer)
• Running with Scissors (2006) (pre-production) (producer)