Song Hye Kyo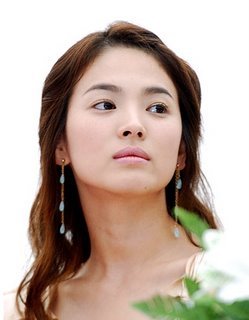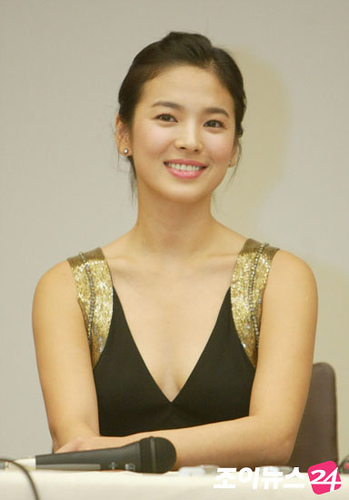 Born February 26, 1982 (age 24)
South Korea
Height 5' 3½" (1.61 m)
Years active 1996 - present
Official site (Korean) Official SidusHQ page
Notable roles Eun Suh in Autumn Fairy Tale
Min Su-Yeon in All In
Han Ji Eun in Full House
Song Hye Kyo is a South Korean model and actress. Before getting her arts degree at Sejong University, Song made her debut by winning the Grand Prize in model search in SunKyung Smart and starring in a Sunday morning drama called "Happy Morning" (KBS,1996). She starred in number of hit dramas including All In, Autumn Fairy Tale, and Full House. Due to her popularity she can be seen frequently on advertisements when she is not acting. She is currently under SidusHQ.
Career
Song debuted in the entertainment industry when she won the Grand Prize in SunKyung Smart, a school uniform company in 1996 when she was finishing her third year in high school. It was not long until she starred in her first drama, "Happy Morning." Since then she continued to star in various dramas and sitcoms.
Her first big break came when Song co-starred in the KBS drama Autumn Fairy Tale in 2000 with Song Seung-hun and Won Bin. The show quickly became popular as a tragic love story.
Her popularity continued to climb when she played a leading role in the poker drama All In, alongside Lee Byung-Hun. The drama was so popular that the title of the show itself entered everyday vocabulary in Korea. They soon were involved in a relationship off-camera which gave both of them heavy publicity. Rumours regarding their possible marriage circulated. However, the relationship survived for less than a year.
Another big break came when she played a major role in the very popular TV comedy series Full House in 2004. Another popular star Rain co-starred in the drama. They were rumored to be a couple, but they denied it and said they were just good friends.
She will release her video album in December by StarM Planning entertainment company because she has been pursuing her dream of becoming a "hallyu queen" in Japan.
She became known in computer graphics circles when Indonesian 3D artist Max Edwin Wahyudi created a remarkable quality 3D picture of her.
Television shows
2004 KBS Miniseries: Full House (풀 하우스)
2004 SBS Miniseries: Sunlight Pours Down (also titled Sunshine of Love) (햇빛 쏟아지다)
2003 SBS Miniseries: All In (올인)
2001 MBC Miniseries: Hotelier (호텔리어)
2001 SBS Miniseries: Guardian Angel (수호천사)
2000 KBS : Host of Music Bank
2000 KBS Miniseries: Endless Love I (가을동화)
1999 SBS Comedy: Soonpoong Clinic (순풍 산부인과)
1999 SBS Sunday Morning Drama: Sweet Bride
1998 SBS Situation Comedy: Who am I? (나 어때?)
1998 SBS Special Drama: A White Night 3.98 (백야 3.98)
1998 SBS: Host of Gippeun Toyoil (Happy Saturday)
1998 SBS Situation Comedy: Marching
1998 SBS Special Summer Evening Drama: Deadly Eyes
1998 MBC Week Drama: Six Siblings
1997 KBS: Dalkomhan Sinbu
1997 MBC: Jjack (Couple match)
1997 KBS: Wedding Dress
1996 KBS Weekend Drama: First love (첫사랑)
1996 KBS Sunday Morning Drama: Happy Morning
Movies
2007 JYH : Hwang Jini
2005 Sidus: My Girl and I
Awards
2004 KBS Drama Awards: Best Actress (Full House)
2004 KBS Drama Awards: Most Popular Actress
2004 KBS Drama Awards: Best Couple (with Bi)
2003 SBS Drama Awards: Best Actress (All In)
2003 SBS Drama Awards: Top 10 Star
2002 CE (China Entertainment) TV Awards: Top 10 Asian Entertainer
2001 SBS TV Awards: SBS Top 10 Star
2001 37th Baeksang Art Awards: Most Popular Award (TV category)
2001 Gold Song Awards(Hong Kong): Top Korean Star
2000 KBS Darma Awards: Photogenic Award (Endless Love I)
2000 KBS Drama Awards: Most Popular Actress (Endless Love I)
1998 SBS TV Awards: Best Newcomer Award (Soonpoong Clinic)
1996 First Prize for MTM (Model Talent Management)
Source:Wikipedia